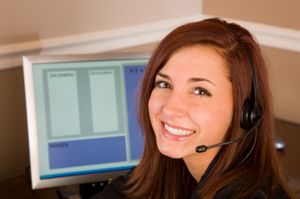 We look for many qualities in the individuals we hire -- the ability to communicate effectively, a high level of organization, strong interpersonal skills, and so on. Regardless of an applicant's qualifications, we always look for one attribute in particular -- the desire to provide high quality products with excellent customer service.
We can train people how to work with clients or run pieces of equipment, but to have passion for customer service and pride for your work takes a unique individual.
If these are qualities you possess, we're sure you'll find a rewarding career with us. We supply our team with the latest technology, afford them the best training available, and provide every opportunity for growth within our company.
Current Openings
 Office Manager with Strong Accounting Background 
The Printing Port is a commercial printing and direct mail production company seeking hard working, motivated individuals to join our team. 
We are currently seeking a full-time Office Manager with a strong Accounting Background. Must have a strong proficiency with QuickBooks. You will be responsible for running a fast paced office and being the right hand to the president of the company. 
KEY RESPONSIBILITIES: 
Accounting Function Oversight 
Collections of all accounts receivable 
Verifications and payments of all accounts payable invoices 
Controls of receipt and deposit of cash payments received 
Maintains petty cash account and disburses the same in accordance with company policies and procedures 
Reconciliations of all accounts 
Same Day Check requests 
Bank deposits 
Verifies/audits cash disbursement reports 
Operational Activities 
Orders supplies for the office and completes inventory counts 
Assures compliance with all Company policies and procedures. 
Reviews time cards, calculates employee's time to submit to Payroll Company. 
Administers local Human Resources (HR) processes such as processing new hire paperwork, verifying previous employment, maintaining employee files and other confidential files (I9's, etc.). 
Ensures new associates receive new hire orientation. 
Pulls monthly reports from Business Manager System and supports sales staff. 
Maintains vehicle records/licenses 
Processes expense reports 
Manages all Alarm Systems (codes, working order, etc.) 
Trains associates in the proper administration of policies and procedures 
Maintains and updates customer records 
Provides a collaborative, productive workplace environment for associate growth and development that instills pride, a sense of ownership, and the challenge to associates to exceed expectations 
Behaves in a supportive way to enrich the work environment 
Performs other duties as assigned 
Be a backup for answering phones and helping customers. 
QUALIFICATIONS: 
High school diploma, GED or completion of a diploma-training program at a college or technical school 
Must have a strong proficiency with QuickBooks. 
Two (2) years bookkeeping, general office, clerical accounting, and Accounts Payable experience required 
One (1) year Human Resources experience required 
High school diploma, GED or completion of a diploma-training program at a college or technical school 
Knowledge, Skills and Abilities 
Solid working knowledge of computers, typewriter, MS Office, e-mail, internet and basic office equipment required 
Solid working knowledge of the internet. 
Excellent communication skills both orally and in writing 
High level of compassion, integrity, and confidentiality 
Problem solving skills 
Ability to multi task and set priorities 
Detail oriented 
Must be flexible and able to function in a face-paced environment 
Must be able to handle several high priorities at one time. 
If you are a detailed-oriented individual, with good phone and decision-making skills, and are able to multi-task and work in a fast-paced environment, under tight deadlines, please apply today! 
Applicants without QuickBooks experience WILL BE rejected. 
150 April Gray Lane, Myrtle Beach, SC 29579 
www.theprintingport.com